Battery Test and Replacement in Chicago, IL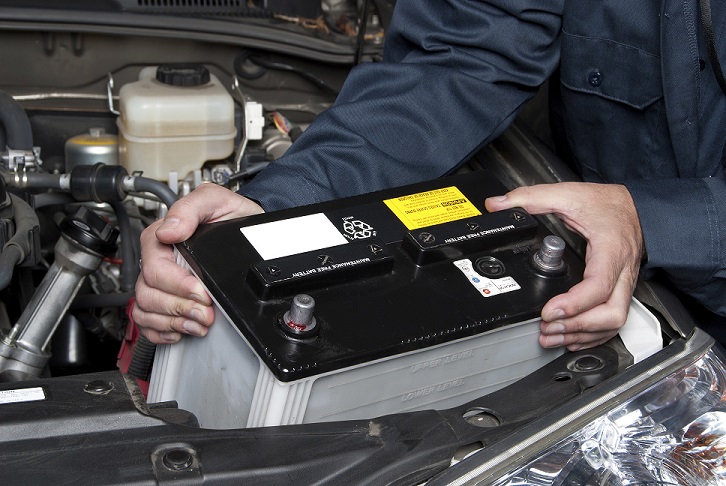 Service Hours
(773) 912-5698
| | |
| --- | --- |
| Monday | 7:30 am - 5:30 pm |
| Tuesday | 7:30 am - 5:30 pm |
| Wednesday | 7:30 am - 5:30 pm |
| Thursday | 7:30 am - 5:30 pm |
| Friday | 7:30 am - 5:30 pm |
| Saturday | 8:00 am - 5:00 pm |
| Sunday | Closed |
You are constantly relying on your battery to bring your powertrain to life every time you turn your key in the ignition. Unfortunately, like most other components of your vehicle, its efficiency withers away with extended use. That is why we are here to give you a friendly reminder to drop by for regular upkeep so you can get your powertrain started in a prompt manner every morning. When you have time, swing by our Service Department at South Chicago Chrysler Dodge Jeep for a checkup!
How Often Should I Replace My Battery?
You are probably wondering how often you should replace your battery, and that is exactly why we are here to lend our expertise! There are a few different factors that contribute to how often you need a replacement, so we'll begin there. For starters, the weather that it endures can negatively impact its erosion rate. Living in Chicago can really put a damper on your battery's livelihood because of the hot summers and brisk winters that we experience every year. Another reason that it will start to become ineffective is dependent on your daily travels. If you are constantly making short trips throughout the day, then you are sourcing power more than you should. Your battery's continued use will force you to have a replacement more often. If you want to avoid this, we suggest getting all of your errands taken care of in one fell swoop. Until then, drop by twice per year.
Red Flags
Your battery will start to issue warning signs that will let you know it is nearing the end of its lifespan. The most obvious signal is your battery indicator lit up on your dash to let you know it is ready for maintenance. Another thing to be aware of is if you hear your engine sputtering when you attempt to start your vehicle. Although it might start rumbling eventually, this means that it is no longer maintaining a sufficient charge. The final sign that you are ready for a replacement is if you have recently had to call a friend or family member to meet you for a jump start. This is your component directly telling you it can no longer come up with the proper charge on its own and is relying on the health of another battery. You can always check for yourself, and if you see a swollen battery casing beneath the hood, then you should contact us at 773-912-5698.
Online Features
Before you drop by, make use of the handy features on our website to help you save some time and money in the long run. To begin, you can click on the Service dropdown to view the specials that we currently have running. Even if you don't see one for your battery, you can always combine it with an oil change coupon to help limit your time spent in our service bay. Our Ask a Tech form is available 24/7, and will put you in touch with one of our mechanics to have all of your questions or concerns answered. Then, when you are ready to secure a time slot, fill out the Schedule Appointment form!
Stop by South Chicago Chrysler Dodge Jeep for your battery test and replacement in Chicago, IL. We are located at 7340 South Western Avenue in Chicago, IL.
Testimonials
I love my car .
3-27-2019
Keep up the Good Work
3-11-2019
The customer services is great!
3-7-2019
I highly recommend this place
3-4-2019
Experience was incredible
3-1-2019
Thanks for the Help
2-20-2019
Overall great experience
2-13-2019
I drove off the lot and was happy.
2-7-2019
Great Job
7-12-2019
very knowledgeable
7-11-2019
Helping Hand
7-6-2019
They are always nice when you call :)
7-5-2019
very informative
7-2-2019
service is wonderful
6-28-2018
Shout out to the Team
6-20-2018
You Guys Are The Best!
5-17-2018
Great Sales Person
1-12-2018
Referrals
1-31-2018
Great Customer Service
12-29-2017
Great Car Buying Experience
12-20-2017
Read More